We are updating this. Thanks for visiting Josh and Ali's profile.
During 2008-2011, Josh and Ali were very involved in leading short-term trips to Albania to help churches start ministries to children with learning disabilities. From these trips, God created in them the desire to serve long-term in one of Europe's few Muslim majority countries.
The Reeves arrived in Albania in early 2018. Initally they will be learning language and developing an understanding of the Albanian culture with a view to getting involved in church planting.
The church in Albania is still very young and small, and there is a great need for more churches to be planted. Secondly, they would love to continue developing gospel-centred ministries to people with learning disabilities. Many Albanians who have disabilities never get the chance to attend church and hear about the Lord who made them and loves them. They have a passion to help the church reach these people with the good news about Jesus.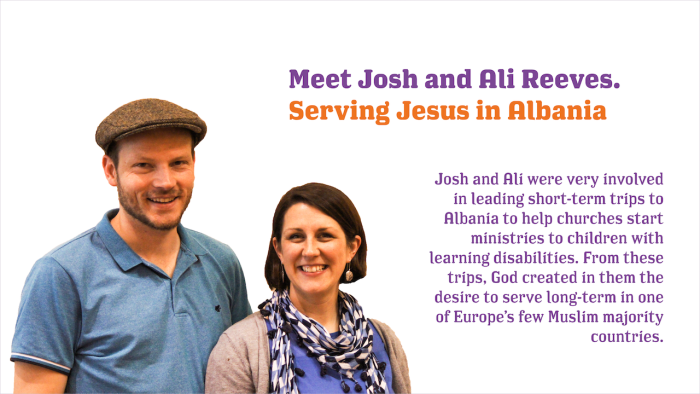 Sending churches
St James Croydon , Australia
http://stjamescroydon.org.au

St Ninians Community Church, Scotland
http://stninianscommunitychurch.org